Lauren Conrad Teams Up with Blue Avocado
You might recognize Lauren Conrad from the infamous U.S television shows such as Laguna Beach and The Hills, but this California beauty is much more than just a reality T.V star. Since The Hills, Conrad has published seven books (all NY Times Best Sellers), designed two clothing lines (Paper Crown and LC for Kohl's), and contributes for Style Watch: People Magazine on a monthly basis. You may now add eco-friendly designer to the entrepreneur's overgrowing resume. This month, Conrad is collaborating up with the eco-conscious bag line, Blue Avocado. If you are not familiar with the line, allow me to break it down for you.
Blue Avocado features lunch, shopping, beauty and travel bags all made from 50% of recycled material. The goal of Blue Avocado is to get people to stop using paper and plastic bags that can be highly toxic for our planet. In 2010, Blue Avocado products have eliminated more than 20 million plastic bags from the waste stream, avoided 1 million pounds of carbon dioxide emissions, and recycled up to 277 thousand plastic bottles through their fabrics. It is a wondrous concept which leaves retailers wondering why they haven't taken part in the idea themselves. The bags are equally cute and stylish all without being harmful to the planet.
Lauren's line for Blue Avocado's, XO (Eco), is now available on the website and is made from recycled plastic bottles but judging from the finished product, you couldn't tell. With patterns such as bold black and white stripes and little, pink birds; her entire line is insulated, washable, reusable and made from 100% organic cotton as well as recycled plastic bottles. Conrad's whole line is perfect for the that chic, eco-friendly enthusiast at heart.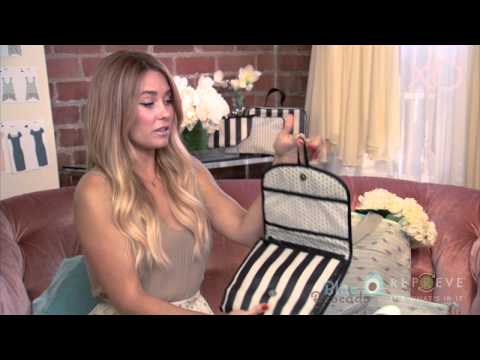 "The company encourages people to make little eco-friendly changes in their life to effect change" Conrad was quoted saying of the company. It leaves people such as myself wondering, if this is what change looks like, where do I sign up?
Previous in Eco Fashion: Seasalt Cornwall: An Eco Brand from the Coast
advertisement