Assimilation and Self-Replication – What the Borg, Nanites and Grey Goo Have in Common
"Imagine a replicator floating in a bottle of chemicals, making copies of itself … the first replicator assembles a copy in one thousand seconds, the two replicators then build two more in the next thousand seconds, the four build another four, and the eight build another eight. At the end of ten hours, there are not thirty-six new replicators, but over 68 billion. – Eric Drexler
In science fiction, one of the more intriguing – if terrifying – themes is that of the 'assimilating race'; a species or race which maintains and increases its numbers through the assimilation of others.
If you've ever heard of the Borg – a race of cyborgs in the Star Trek universe with a tendency to repeat the catchphrase "We are the Borg. You shall be assimilated. Resistance is futile" – then you'll know all about it. In Star Trek there is a race known as the Kobali, which reproduce by altering the DNA of dead individuals of other races. In Doctor Who, the Cybermen are a cyborganic race that feeds off brainwaves, and in the pan-galactic "Culture" series from the mind of science fiction aficionado Iain M. Banks (amongst many others), there is reference to 'Aggressive Hegemonising Swarms', which sound a lot like the Borg.
It is such assimilating characteristics, if not always as conspicuous, that may have been the driving force behind some of history's most successful empires. Without labouring the point, the analogy holds whether applied to the conquer-and-assimilate strategy of Gengis Kahn, the Christian missionaries in Africa, India or Asia, Islamic missionaries in Africa or South East Asia or even the American cultural imperialism that saw McDonalds-en-masse crop up across China, and Coca-Cola find a home in nearly every country on the planet.
Such races – we're talking science fiction again – are only interested in their own survival and the accumulation of knowledge and power to that end. But what happens when the principles of assimilation go beyond race and are applied to matter itself?
Popular scientist Dr Michio Kaku loves to talk about the "von Neumann Probe" — a futuristic strategy to explore the known universe using nanobots, based upon the theoretically plausible notion of nanotechnology. Simply put, you use the magnetic fields around Jupiter to accelerate the self-replicating nanobots to near the speed of light, and then slingshot trillions upon trillions of nanobots into outer space where their programming requires that they establish factories on distant moons and habitable planets.
In the Big Think video below, Kaku readily explains that these bots work in a way analogous to a virus. The million dollar question is whether the replication be controlled and shut off at will. What happens if you can't stop the replication?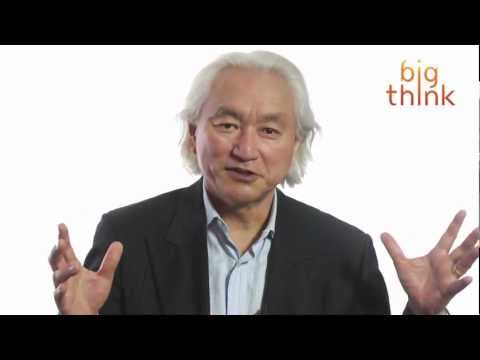 This is what happens in the 2008 remake of The Day the Earth Stood Still, where in the apocalyptic finale, a swarm of "nano bugs" – microscopic insect-like devices that self-replicate through the consumption of matter – spread across America and disintegrate everything they touch. In science fiction lingo, such a being – whether organic or inorganic – is usually referred to as a 'Memetic Swarm'.
Apocalypse by memetic swarm is very similar to a hypothetical end-of-the-world scenario called "Grey goo". It was a term coined by Eric Drexler in 1986. A pioneer of molecular nanotechnology, Drexler wrote a book, Engines of Creation: The Coming Era of Nanotechnology, which illustrated the wonderful exponential growth potential – as well as the vast dangers – of self-replication.
It was this book which inspired an awesome animated film-slash-music-video below – fittingly entitled Consumed – by a talented animator and stroy-teller by the name Andreas Wannerstedt. Consumed is a short film with an awesome soundtrack – HECQ "Enceladus"– set in the:
"not so distant future, where extreme overpopulation has become a global crises. The population growth has reached a critical tipping point and there's food and water shortages all around the world. The story revolves around a "Food Replicator", or a so called molecular assembler, a device that can rearrange subatomic particles and guide chemical reactions with atomic precision. In an attempt to prevent mass starvation, this device is used to synthesize nutritions with the ability to self-replicate. But during the initial tests something goes wrong and out-of-control self-replicating compounds starts to spread, consuming all matter while building more copies of them selves." – Andreas's Story
Andreas goes on to quote Drexler's book:
"Imagine a replicator floating in a bottle of chemicals, making copies of itself … the first replicator assembles a copy in one thousand seconds, the two replicators then build two more in the next thousand seconds, the four build another four, and the eight build another eight. At the end of ten hours, there are not thirty-six new replicators, but over 68 billion. In less than a day, they would weigh a ton; in less than two days, they would outweigh the Earth; in another four hours, they would exceed the mass of the Sun and all the planets combined — if the bottle of chemicals hadn't run dry long before."
In Stargate Antlantis, the hyper-advanced ancestors of modern humans – known as the 'Ancients' – created a memetic swarm, known as "nanites",
The Ancients introduced an aggressive streak into the nanites in order to weaponise them, but it soon grew out of their control. Eventually the nanites became so advanced as to take more complex semi-organic forms and so became the Asurans; a race of aggressive replicating being. Thus in Stargate the theme goes full circle. You can see a brief history of the Asurans in this video below:
Nanites. Self-replicating machines. Grey Goo.
Whatever we call it, it's fun to contemplate. But if it ever did become a reality, it would change our world in ways inestimable.