Google's Driverless Cars Now Legal in Nevada
Nevada's Department of Motor Vehicles handed Google the very first U.S. license for a driverless vehicle on Monday, following 2011 legislation in the state to allow test-driving of vehicles capable of piloting themselves. The 2011 law required Nevada's DMV to establish regulations for autonomous vehicles, something it did a few months ago in February. In fact, "driverless" is not quite accurate, as NV requires two people to be present in the vehicle — one behind the wheel and one in the passenger seat.
According to the Las Vegas Sun, Google has equipped a test fleet of at least eight vehicles — six Toyota Priuses, an Audi TT and a Lexus RX450h, which will soon be tested on streets and highways across Nevada. The vehicles' license plates issued will have a red background (normal Nevada plates are blue-gray) and feature an infinity symbol on the left side. According to optimistic DMV Director Bruce Breslow, "I feel using the infinity symbol was the best way to represent the 'car of the future.'" DMV officials have been in the vehicles during demonstrations on the Las Vegas Strip, Carson City, and around Lake Tahoe.
Google's technology combines artificial intelligence software, GPS, and multiple cameras and sensors to navigate through traffic, winding roads, or unexpected distractions. It is not, however, designed to replace the driver. Users must still be licensed, able, and alert enough to drive, and the system permits a human driver to take control at any time by stepping on the brake or turning the wheel. And then when the human driver needs to make a call, change the song, or read a text message, all distractions that lead to countless car accidents annually, the vehicle can go back into auto-mode.
According to Sebastian Thrun, who helped build the Driverless Car, driving accidents are the number one cause of death for young people in America, and most of these deaths are the result of human error, not machine error, and can instead be prevented by machines. Traffic jams, which take up an average of 52 minutes of our day and 2.4 billion gallons of gasoline, could be eradicated by the collective use of Google's technology, Thrun says.
Although test-driving has begun, many questions remain. Will the car industry reject technology that may result in selling fewer cars, or will it capitalize on a product in high demand? Will traffic control officers lose their jobs, or will they be able to focus on more important crimes? Self-driving cars — will we ever be comfortable with that?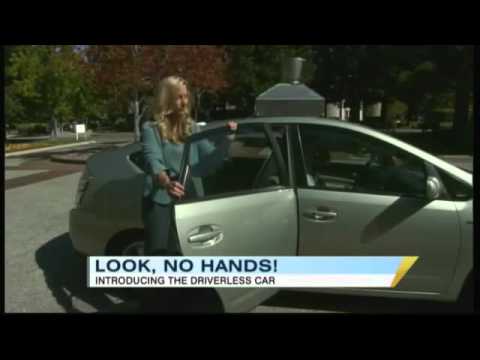 advertisement