A Few Highlights of a Two Year Peace Corps Service in Botswana
Peace Corps Volunteers see a lot during their service. Though the photos displayed here don't come close to representing the many experiences accrued or lessons learned during my last two years living in Botswana, I hope these few select photos and videos will provide a glimpse into some of the beauty I've seen during my time here.
Peace Corps is currently serving in 28 countries on the continent of Africa. Not only does every country hold its own set of opportunities for Volunteers, but each individual will most likely have a drastically different service from another individual even within the same country.
A Wedding in Mapoka
About five months after arriving to Francistown I went to my first wedding in the nearby village of Mapoka. It was my coworker's wedding, so I attended with people from my office. It was her second time to marry and she and her husband are both in their fifties, so they are quite the anomaly in Botswana. I was thrilled to attend, and at this stage felt like I was finally beginning to integrate. This photo takes place at the conclusion of the wedding celebration when the married couple returns to the party in different attire. Standing at the back wearing brown suits, the couple watches community members dancing in celebration of their union.
HIV/AIDS Candlelight Memorial for Francistown 2010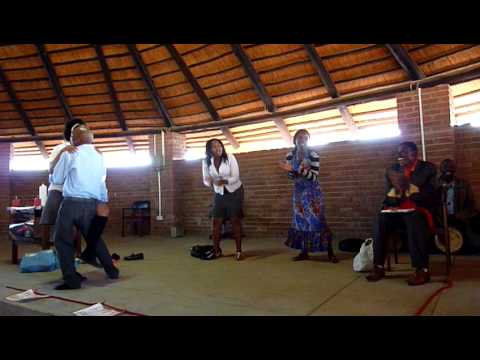 This video took place at the 2010 HIV/AIDS Candlelight Memorial for Francistown, which was an event put on by my office and several other stakeholders. I had just arrived at site and this was one of my first events. Ghetto Artists, the non-profit theater troupe specializing in promoting messages of healthy living and HIV/AIDS prevention, does an incredible job of depicting sensitive topics for a family setting. My jaw dropped when I saw this because at the time I didn't know one could even talk about issues of sexuality and dating in a cultural setting in Botswana, much less dance and sing about it. Here they are demonstrating multiple-concurrent partnerships and the detrimental effect this common practice can have on the spread of HIV/AIDS.
Elephants Roam Free
I'm sure to have seen an elephant before this one, but never before had I seen one living in its natural habitat. I took this in Kasane, Botswana, and on my way up saw handfuls of elephants hanging out on the side of the road. Regularly spotting elephants, warthogs, baboons, monkeys, kudu, ostrich and zebra is a part of life for many in Botswana.
A Francistown HIV/AIDS Football Tournament
Football is universal, but in Botswana it's like an addiction. Young people and older people play. People play after school, on weekends, barefoot, in school uniforms, in leagues and in spontaneous games. Here, the Francistown AIDS Office, along with a partnering non-profit organization, put together a mini-tournament to help educate men on HIV. At the event we had on-site testing services, prizes for the football winners, periodic messages about safe sex and healthy choices on the loudspeakers, and of course, meat pies for all the players after the game. I wrote a blog post about the event here.
World AIDS Day Commemoration in Francistown
Part of our work in the District AIDS Office is to facilitate local World AIDS Day Commemorations. This photo is of a drama at the 2010 Commemoration in Francistown. The actor is throwing a condom to the side to demonstrate the "dos and dont's" of responsible dating. Later in the commemoration the audience watched traditional dancers, seen here: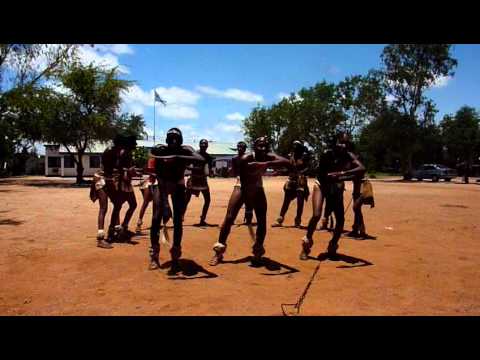 I had no idea what the song was about, but it impressed me nonetheless. Not only are the dancers well rehearsed, but no matter how fast Botswana develops (and it is developing rapidly) the country keeps its traditional culture alive with such performances. There is also a great moment at around the 2:30 mark when an older Motswana woman begins dancing and undulating for the performers in the middle of the performance. It's a custom showing motherly appreciation, and it seemed to energize both the dancers and the crowd. I felt lucky to be able to capture the entire event.
The Workers' Strike and Protest Marches
In March 2011, I sat working at my desk in my office when my coworker and I heard what we thought was a thunderstorm. As the rumblings became louder we realized what we were hearing wasn't thunder, they were feet.  I went out into the lobby and looked out the window to see the first march of the largest worker protest Botswana had ever had. Hundreds of people marched up to the door of Francistown's government office building and chanted in unison that they wanted more money. The worker strike that followed this protest lasted for several months and affected the service of many Peace Corps Volunteers in Botswana. Though Volunteers remained neutral, government workers had to choose to either sign-in at work or join the protesters at the local protesting spots. Many teachers and medical staff lost their jobs, and a few riots broke out. It was a turning point for Botswana.  More on this here.
Emerging Art
Botswana is known for its basket weaving, ostrich egg shell jewelery, and hopefully soon, its sculpture. This was created at the Thapong Visual Arts Centre in the capital city, Gaborone.
Previous in Africa Day: African Day Playlist: 8 Songs to Feed the Soul