Donate to Science? Explored
This week, Urban Times and GV Art kicked off the third in the Trauma series in their momentous collaboration set to explore the tale of scientific traumas via art. The focus: Donate to Science? Hosted by GV Art at their gallery in Marylebone, London, we were joined by speakers Dr. David Dexter, the Scientific Director of the Parkinson's UK Tissue Bank, and Dr Steve Gentleman, Professor of Neuropathology at Imperial College London. Caroline Browne, Head of Regulation at the Human Tissue Authority, was the special guest for the evening. 
Dexter began speaking about the importance of brain donation as an invaluable tool for understanding traumas such as Parkinson's, Alzheimer's and multiple sclerosis. He opened with some statistics revealing that 36 million people worldwide have dementia and the cost of this to society was a hefty $604 billion in 2010. These figures put into perspective just how much of a problem dementia is globally, but what we must realise is that the biggest cost is to the quality of life of those that suffer from it. Parkinson's is a movement disorder of which well-known figures such as Muhammad Ali and the Pope are battling against. However, it is entirely a human phenomenon as it's never been seen that animals contract such diseases. This is why human tissue donation is so very important as it's not possible to use animals as models. Dexter went on to describe that looking at human tissue is like looking at the scene of a crime. To find out what happened in its living form one must investigate. After all, there have been many cases when clinical trials have been initiated from what has been explored in human tissues and so it plays an undoubtedly vital role in the research process.
In terms of the practicalities associated with brain donation each donor should carry a card on them which states that they are a brain donor and gives the relevant telephone number for someone to call in the event of their death. There are 8-9,000 brain donor card holders nationally. The idea of card carrying caused some controversy in the audience. Olivia Solon, from Wired Magazine, asked why there was not an automated process in place. When the donor passes away it is often the responsibility of the next of kin to call the Brain Bank to ensure that their brain goes to the appropriate place. Surely this isn't the most effective way of organizing this, nor easy for the family to deal with during their bereavement. It appeared that the problem lied in the fact there is not enough coordination within the NHS. Dexter argued that there needs to be more of a top-down approach.
What was quite shocking to hear was that approximately 50 cases per year can't be collected, that is, 50 people whose dying wish of donating to science cannot be honoured. There are many obstacles to these coming through. In some cases this is related to the body having to go to a coroner to find the cause of death. The legal requirement for a signature on the death certificate also plays a significant role in stopping the donation sometimes. Dexter revealed that if someone dies on a weekend their case might be less likely to be collected. Also, due to the fact the some GPs have opted-out of being on call means that on-call teams are often not willing to sign death certificates because they aren't technically responsible for the person in question. Human tissue has a time window of approximately 48 hours to get into the Tissue Bank so you can see a scenario emerge where if someone dies in the early hours of Saturday morning, a lack of an on-call doctor might mean the death certificate cannot be signed till Monday and thus, ultimately, the brain can no longer be used. This is another sad incidence where it is the system and organisational processes that are essentially dishonouring the will of a donor.
The Tissue Bank has over 1,000 brains at present. Dexter revealed figures that 496 of them belong to those that suffered from multiple sclerosis, 497 with Parkinson's and only 117 are controls i.e. from 'healthy' donors. These figures illustrate the lack of healthy tissue and Dexter went on to explain how this can leave gaps in research. Healthy people don't often realise that their brains are just as vital for research as someone suffering from the aforementioned diseases. In 2009 there was a boost to the number of donations due to British celebrities such as Jeremey Paxman and Jane Asher publicly stating that they had consented and committed to donating their brains to science. In the 9 months following this campaign the number of brain donations had so much as doubled.
"Hard to imagine anyone might want your old brain, isn't it? But it's not as if you'll be needing it yourself," Paxman said in a statement.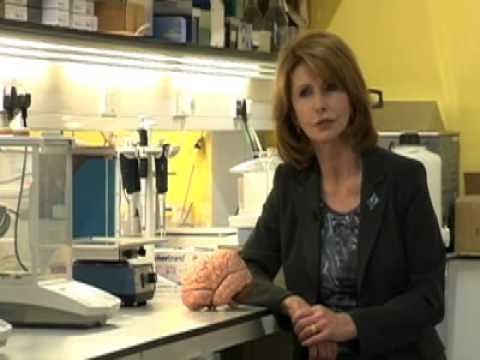 It's important for people to realise that for every Parkinson's brain donated there needs to be a healthy brain to compare it to. Dexter's take home message was ultimately: don't throw away your brain, recycle and donate to science!
Gentleman went into the details of what happens once a brain reaches the Tissue Bank. The brain is cut in half: one half is frozen and used by researchers as needed, while the other half is cut into slices and examined by a neuropathologist. The tissues can be used for structural studies as well as for biochemical studies. It is then the job of the neuropathologist to gauge whether there have been other pathologies picked up in its life i.e. have there been other 'silent' traumas found alongside Parkinson's.
The main reasons for donating brain tissue to science are for confirmation of diagnosis while also the need for clinical audit. Often the situation arises where someone who is thought to have Parkinson's didn't actually have it but rather had another form of 'Parkinsonism'. The clinicians need the autopsy of such instances to document cases such as these and so brain donations are increasingly important for clinical trials. Suppose a new drug is introduced, if we don't follow up by looking at the effect it has on the brain, we don't know whether it's treating what it's supposed to be. Gentleman emphasised the need for autopsy as a formal follow-up because this feedback is essential for things to move forward. Essentially there needs to be a change of culture where people within the medical profession are re-educated to train people to ask for autopsies.
Caroline gave an insight into the legal requirements of the Human Tissue Act 2004 and how this impacts on the research and public display sectors. The Act was set up as a result of organ retention scandals, the most notorious one being Alder Hey, where 180 children's organs were stripped, without permission, from babies who died at the hospital between 1988-1996. Caroline went on to say that the interests of the public is core to what she does at the Human Tissue Authority (HTA) and they want to maintain ethics and proper consent. The Act is such that this is the first time that consent has become a legal requirement. Consent must be written (and witnessed with regards to tissue used for public display and anatomical display)  and it can be revoked at any time should a donor change their mind.
With respect to licensing establishments to publicly display human tissue, the Act lays out that these places must be inspected and demonstrate that they meet the standards of the HTA in order to be granted a license. Interestingly enough, GV Art, is the only private gallery in the UK to hold a License for Public Display and Storage from the Human Tissue Authority. On exhibition at the gallery as part of the Trauma series is Andrew Krasnow's The Hollow Muscle which is made of tanned human skin acquired legally in the US more than 20 years ago.
Artist Marc Quinn's signature piece "Self", a sculpture of his head made with his own frozen blood, surprisingly does not come under scrutiny by the HTA nor the Act as he uses his own living human tissue, however tissue from the dead does come under scrutiny. Caroline illustrated that the HTA will go to lengths to ensure that ultimate respect is giving to the wishes of the dead. For example, if someone has consented to brain donation, the craniotomy will be done in such a way that that it isn't noticeable and the person can be buried without appearing disfigured. Caroline was thus clear to point out that if you do consent to donate then your tissue will be used in an appropriate fashion. Dexter was keen to agree, and said that in some instances the donation procedure can help with the grieving process as it's going towards helping a person that has suffered from the same condition.
In the audience Q&A there was much discussion surrounding the brain being the so-called seat of the soul. Steve mentioned that he didn't understand what the connection between a kilo and a half of fat and the soul could be, all it is an inanimate object. Undoubtedly, whether these doctors think it is an issue or not, many people do not donate specifically due to religious or spiritual reasons. There exists Maori cultural issues with brains being donated because they believe the body is derived from earth and should return after death. In fact, in Africa, there are no brain donations at all due to religious beliefs.
Andrew Purcell, from the New Scientist, was keen to ask whether computer models and 3D construction of anatomy could ever 'replace' the need for donating to science. Steve was quick to point out that as humans we are are all heterogeneous and are by no means colour-coded inside. It would be impossible for computers to replicate the variations found amongst humans. Essentially, surgeons need to see the real thing to understand what is going on.
Of course, introducing an 'opt-out' rather than 'opt-in' system in the UK was at the forefront of everybody's minds. This system is already in place in the Netherlands and Portugal where they have had positive outcomes, particularly with regards to living transplants. Apathy and inertia are often concerns amongst implementing an opt-out system. Dexter said that from a practical stand-point it would probably be better to sort out issues of consent beforehand just so that everybody is on the same page.
If you'd like more information regarding brain donation visit this page. As this article lays out the benefits are huge, and what better way to leave than to give back…
Reviews
The New Scientist: Self Portraits Of A Declining Brain
Gizmodo: How An Artist Painted His Decline Into Alzheimer's
Next in the Trauma Series: The Ethics of Bio Art